SolFed responded to a call for international action after the sacking of a CNT member in Spain. Ana, a worker with Red Cross in Alicante, had suffered prolonged bullying by her works coordinator culminating in her wrongful sacking. Ana is a well respected substance abuse worker with years of experience. As a member of our sister union, the CNT, her sacking has initiated a campaign to see her reinstated. The sacking has thrown light on Red Cross and their vicious internal practices toward their workforce, high-lighting the fact that they are no different to any other cut-throat capitalist company.
SolFed locals responded with a communication blockade and pickets of Red Cross shops in Newcastle and Brighton.
Brighton's picket was part of a week of SolFed action, here's their report:
A group of twelve individuals took part in a solidarity picket of Red Cross on Saturday the 25th of July, at the site of the charity store on London Road in Brighton. Two members of SolFed went in to explain the conflict to the woman operating the till. She informed them that the manager was busy and enquired as to whether the protest was legal. She was also concerned that we would try and prevent customers from entering. The manager appeared shortly and thanked the SolFed members for informing her that we were going to take part in an action, though also commented sardonically that the Red Cross was "some target"... Presumably she'd be more appreciative if it were her job at stake. She also asked if the protestors would be shouting, which was declaimed. Members of the public were generally happy to take leaflets containing details of the conflict, all those printed were handed out after approximately an hour and a half. A few stopped to discuss the conflict. Towards the end of the picket pictures were taken by camera phone of those protesting from the first floor of the store and the police duly arrived a few minutes later, though were only present for a brief time. The picket itself was the culmination of a week of action demanding that the British Red Cross exert pressure on their Spanish counterparts to re-instate the worker. Saturday the 25th also featured the International Day of Solidarity With Antifascist Prisoners and Trans Pride Brighton.
Picket in Newcastle: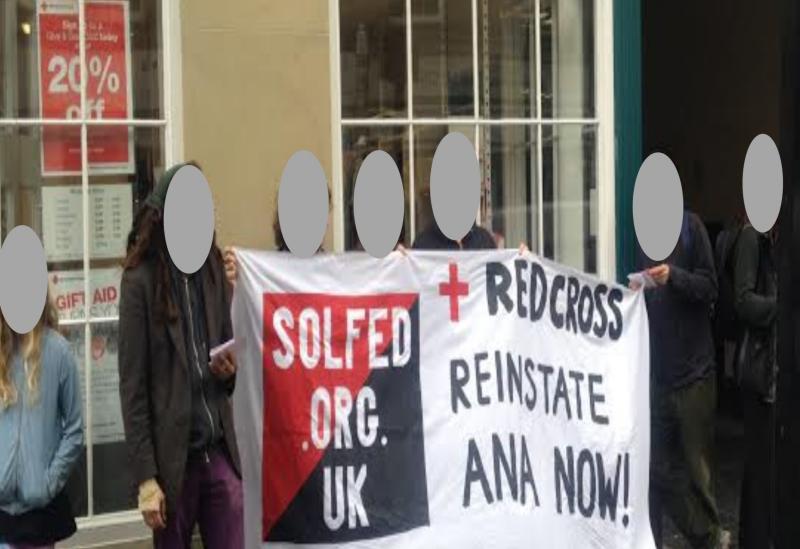 ​Picket in Brighton: